Art & Travel – A Global Affair with a Sri Lankan Flair.​
Travel is a voyage of discovery. It's an exploration of new landscapes, flavors, and cultures. But have you ever considered that art can be your ultimate travel companion? Let's embark on an adventure that fuses the beauty of travel with the enchantment of art, all with a Sri Lankan twist.

The connection between art and travel is a tale as old as time itself. Wherever we roam, art is there to greet us. From Murals on the streets of Paris to intricate carvings adorning ancient temples in India, art shapes our perceptions and memories of the places we visit.
When it comes to the realm of art, Sri Lanka holds a special place. Steeped in history and tradition, this island nation boasts a vibrant tapestry of artistic expression. From the intricate craftsmanship of wood and stone in the ancient city of Polonnaruwa to the vivid hues of batik textiles in the bustling markets of Colombo, Sri Lanka is a canvas waiting to be explores.
As travelers, we often seek to immerse ourselves in the culture of our chosen destination. Sri Lanka's art is a gateway to do just that. It's a means of connecting with the heart and soul of this beautiful land. Whether you're admiring the detailed frescoes of Sigiriya Rock Fortress or participating in a traditional maskmaking workshop in Ambalangoda, art allows you to transcend the role of a passive observer and become an active participant in the rich tapestry of Sri Lankan life.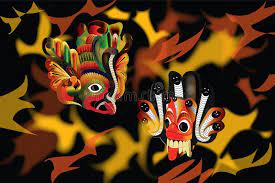 In Sri Lanka, art isn't just a visual spectacle; It's a language, a story, and an invitation to engage with the local community. So, the next time you plan your Sri Lankan adventure, don't forget to add 'art' to your itinerary. It's an invitation to explore, learn, and create unforgettable memories. Let art be your guide as you discover the soul-stirring beauty of this tropical paradise.